Getting Started with SoundQ:
Welcome to SoundQ! Watch this quick walkthrough video to see how to get up and running.
Scroll down for step-by-step instructions and feature overview.
Overview
SoundQ is sound library software that helps creators deliver better sound on every project - faster than ever.
With SoundQ, you get cloud access to the entire Pro Sound Effects Library. Use download credits to select from over 800,000 sounds in the PSE Cloud Library developed with Oscar®-winners and world-class recordists.
Search, audition, and drop any sound from the cloud right to your timeline in your editing software of choice.
You can use SoundQ to organize your own local library and any new library you buy. You also get unlimited cloud access to your purchased PSE Libraries and the Freesound.org library (CC0). These libraries do not require use of download credits.
SoundQ is available for monthly or annual subscription.
Download and Install
Download the latest version of SoundQ at prosoundeffects.com/soundq

Open the downloaded .pkg (macOS) or .exe (Windows) file and follow the on-screen instructions to complete the installation

(Optional) If you are a Reaper user, be sure to select the SoundQ Reaper Extension when prompted
Sign Up/Sign In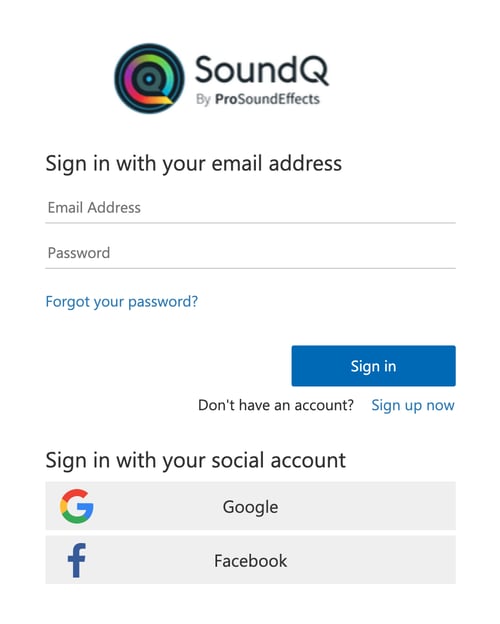 Note to Pro Sound Effects Library Customers:
If you have a Pro Sound Effects account at shop.prosoundeffects.com, create a NEW SoundQ account using this same email address. This way, your library purchases from prosoundeffects.com will sync with SoundQ (you will get unlimited cloud access to these libraries if you subscribe).
If your email address is linked to a Google or Facebook account, feel free to sign up/sign in using those accounts.
If you have already created an account using a DIFFERENT email address and would like to sync your prosoundeffects.com purchases to your new SoundQ account, please reach out to support@prosoundeffects.com for assistance.
Subscription Tiers
When logging in for the first time, you will be prompted to select a tier. For more information about pricing and the tiers, please visit prosoundeffects.com/soundq
If you continue with the Free tier, you can upgrade your subscription at any time.
Upgrading

To upgrade your account and unlock all paid features (download credits, unlimited local databasing, etc..), click the user account icon, and choose "Upgrade Subscription."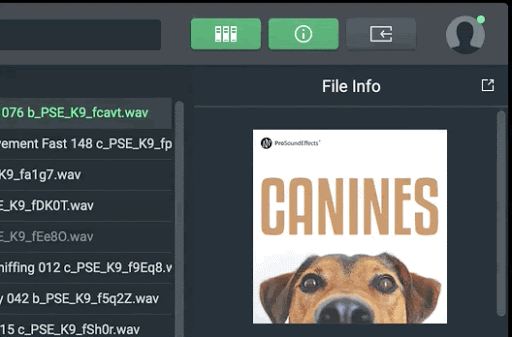 Adding Credits

If you are a paid subscriber, you will have the ability to add download credits to your account beyond the 30/month (or 360/year for an annual subscription). To do this, select "Add Credits" in the user menu: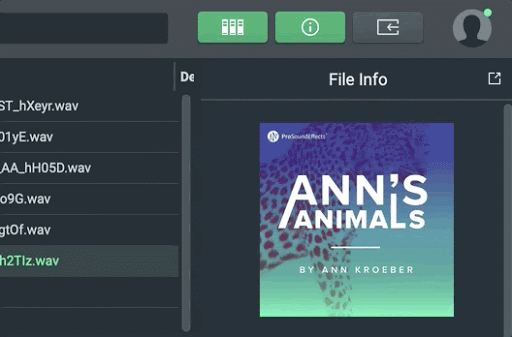 Using Coupon Codes

If you have a coupon code, enter the coupon code after making your selection when entering your payment details: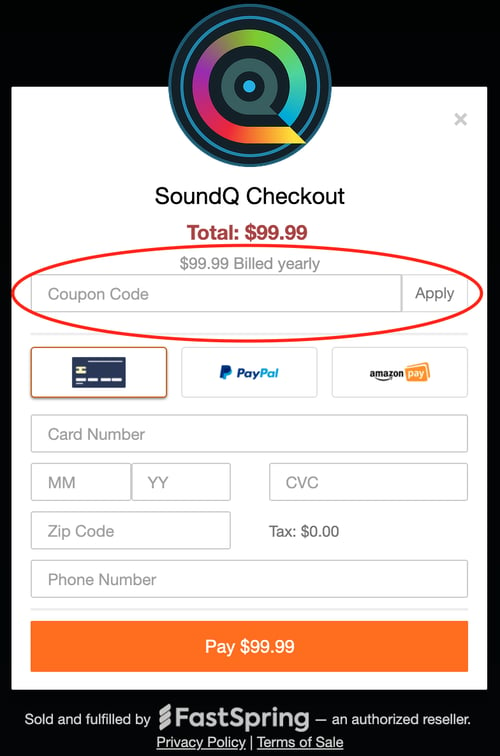 Download Credits

As a SoundQ Free user, you will receive 5 free download credits to download any sound from the Pro Sound Effects cloud library. To add more credits, subscribe to SoundQ.
In the results list, the icon in the first column indicates whether the sound is coming from the cloud or local and whether or not you need to use a credit to download.



The sound is part of a local library - i.e. on your computer's hard drive or a connected hard drive



The sound is coming from the cloud, but downloading will NOT use a credit

The sound will use a download credit upon transfer
Libraries Panel
The libraries panel includes Sources and Libraries. The major sources are:
Local: Sounds that are stored on your computer or an attached hard drive

Pro Sound Effects: Sounds from the PSE cloud library

Freesound.org (CC0 only)
The magnifying glass in the checkboxes indicate that a particular Source or Library will be included in search results.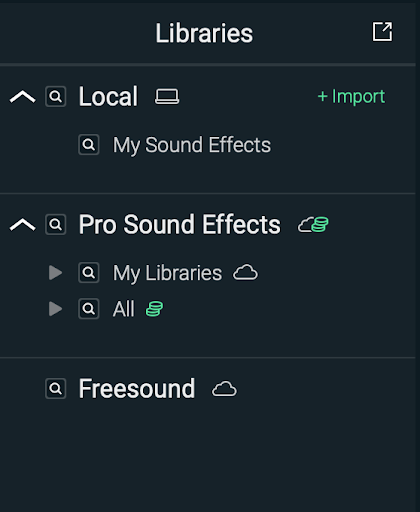 You might like to restrict your results to only a single library or source. To do this, hover over the item in the list, and click the "Only" button. You can think of this as a "solo" for a particular library or source.

Within the Pro Sound Effects source, you'll notice a "My Libraries" section, and an "All" section.
My Libraries - If you are a SoundQ subscriber, any Pro Sound Effects libraries you've purchased will be accessible here and are available for unlimited access

All - This section contains all Pro Sound Effects libraries available in SoundQ. These sounds will use a credit when downloaded.
File Info Panel
SoundQ reads and writes metadata to an open iXML format and the standard Broadcast WAV format readable by most applications. All of this metadata can be viewed in detail in the File Info panel.
You can edit the metadata of any file in a local library by simply double clicking on the field you'd like to edit in the File Info Panel.
To batch edit the metadata of multiple files at once, simply select the files you'd like to change in the results list, then edit that field in the File Info Panel. All sounds will update to reflect the recent change.
You can also edit metadata fields directly in the results list by right-clicking (control+click) on a sound and choosing the "Edit Description" option, for example.
Changes to metadata are only reflected in the SoundQ database. If you'd like to embed your metadata changes to the file itself for use in other applications, use the "Write Metadata to Changed" command in the database menu.
Importing Local Sounds
There are several ways to get to the Import Panel:
Clicking the Import icon in the top toolbar

Choosing "Import" in the libraries panel

File > Import…
Then you simply drag and drop as many files/folders as you'd like directly into SoundQ. You will then be prompted to select a destination for the sounds – either an existing library, or a new library.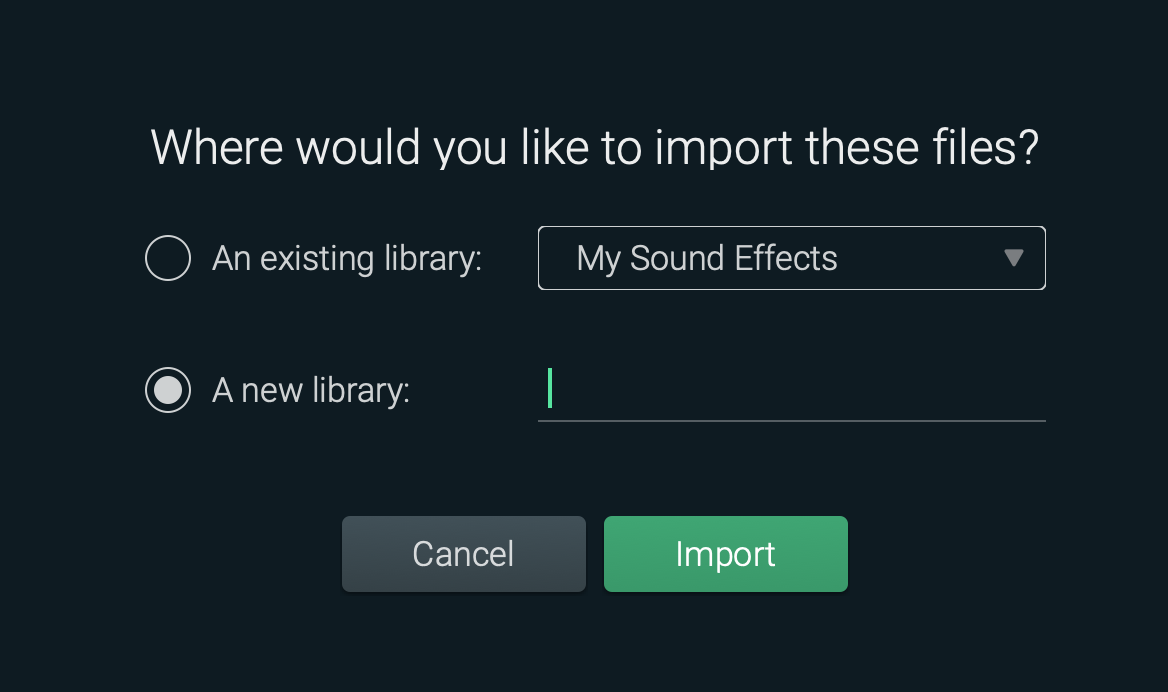 The scanning process will then begin. Please note that this could take a while depending on a number of factors including the number of files being scanned, the speed of your hard drives, and the types of files being scanned. Please be patient.
Searching, Auditioning, Exporting
To search in SoundQ, simply use the search bar at the top of the SoundQ window.
For a search that includes ALL search terms, simply type your search query with spaces:
E.g. Crow Distant
To perform a search for multiple terms, use "(" and commas between terms:
E.g. (Dark, Moody, Drafty)
To perform a search that excludes certain terms, use a "-":
E.g. Crow -Crowd
Column Display
After searching, your sounds will be displayed in the results list. Each column you see corresponds to a metadata field. You can customize the columns displayed by right-clicking (or Control+Click) anywhere on the column titles. This brings up a full list of metadata fields that can be shown or hidden as necessary.
Waveform
Simply click and drag on a waveform to make a selection: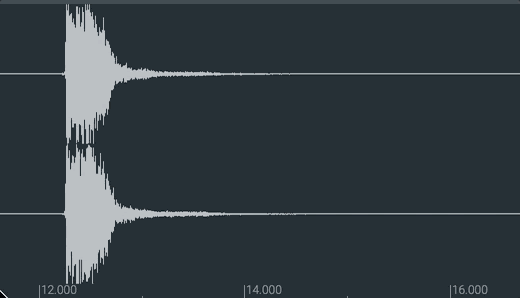 Selections can be refined using the Selection Start/End trim. Fades can also be applied to the selection if you prefer fades to be applied before transfer. To apply fades, simply hover near the top right or top left of a selection to reveal the fade trim (shown above).
Volume
Output volume can be controlled using the volume slider. Please note this controls the audition volume and will not affect the meter readings or the transfer gain, i.e. the gain of the file or clip when exported to another application. Double-click or Option+click on the volume slider to reset it to 0dB.

Speed
Playback speed can be adjusted using the speed slider. This is a varispeed slider so changes to playback speed also affect pitch. As with the volume slider, you can double-click the slide to reset to 0. You can also right-click the slider to display the speed change in semitones!

Channel Selector
SoundQ supports most multi-channel formats. If you'd like to solo individual channels of a multi-channel file, simply click the channel you'd like to audition. CMD+click will allow you to select multiple channels. For example, this could be used to transfer just the Left and Right channels of a 5.1 file.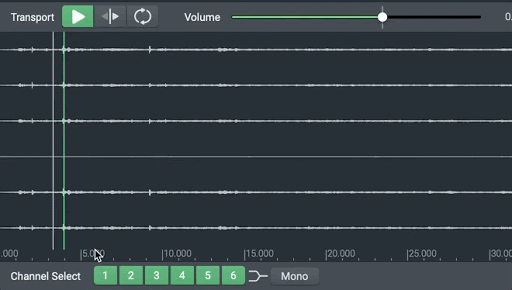 Exporting sounds to other Applications
To set the destination for your sounds, open the Send Panel: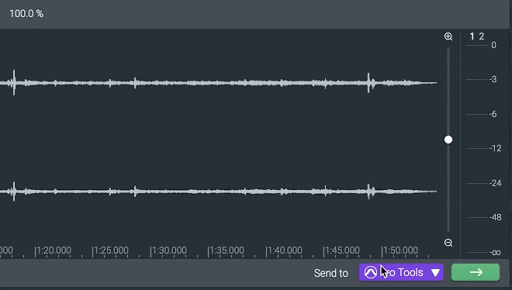 After selecting your destination, you can either hit the green SEND button in the bottom right corner, or simply hit the 🅂 key.
Support